Happy-chan

Song(s)
Happy ni Naritai
Illust by:
Terada Tera
Physical Features
Hair color
Light purple
Eye color
Light purple
Gender
Female
Height
?
Weight
?
Status
Alive
Race
Human
Relationship
Siblings
Haribote-kun
"
What should I do, God of Music?
"

Happy-chan
Appearance
Happy-chan has two different attires in the PV.
She has short purple hair, and purple eyes. She wears a pink dress with a black sweater over it. Her sweater has an image of a hand holding a broken heart on it.
In her first outfit she has a lightning shaped barrette. She has mismatched leggings, with the right leg being striped and the left leg being a solid turquoise. She wears high-top sneakers.
In her second outfit (her usual one), she has grey socks, with the left one sagging. She wears yellow boots with black laces.
In both appearances, she has a water gun, however, the appearance differs. The yellow water gun in her second outfit is the one used in the PV.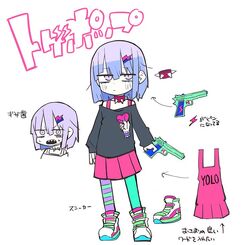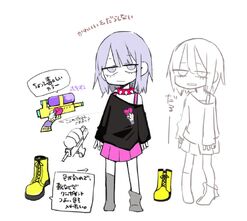 Background
Happy-chan is a person unsatisfied with her life, preferring her fictional dreams over her reality. She seems to be suicidal as well, as seen in the lyric "I want to reset this very boring life already". She wants to be happy, but she doesn't believe she will be able to. Likewise, she states that she wishes to erase her anxiety and sorrow, and everything, but doesn't believe that that will happen either. She believes that she is incapable of being saved, not even by her "dramatic and fancy song"
Trivia
She is sometimes called Haa-chan (ハーちゃん) for short.
She is related to Haribote-kun, as she is his older sister. They are both illustrated by Terada Tera.
She is apparently an adult, her age being somewhere between 18-20.
She enjoys lollipops, as she is shown with one in multiple of Terada Tera's drawings.
Gallery