E
Song(s)
Enmei Chiryou
Illust by:
Sidu
Physical Features
Hair color
White
Eye color
Yellow
Gender
Male
Height
160cm
Weight
?
Status
Deceased
Race
Human
Relationship
Friends
Tanaka, Yamaguchi, Raku
"
How do you like it?
"

E
Appearance
[
]
E has fluffy, short, white hair and pale skin. He has golden-yellow eyes. He wears black and grey hospital clothes, and seems to have a red undershirt. He has puffy red pants with green belts. He wears a white boot on his right foot (he does not wear a shoe on his left foot).
His entire left side seems to be robotic or mechanical, including mechanical limbs, or something of the like, protruding out of his back, and a robotic "mask" on the left side of his face.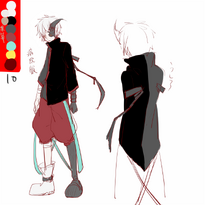 Background
[
]
E is an extremely sick boy and is hospitalized. He is used as a test subject by the doctors, as half of his body is mechanical. His blood is green and his body usually freezes suddenly. In the song he attempts to escape the hospital he is staying at due to being used as a test subject by the doctors there.
Trivia/Headcanon
[
]
He likes milk and boxed drinks.
He hates it when people talk about his height.
Neru ships him with Tanaka.
He is left handed, as seen in multiple of Sidu's sketches.

Along with that, his left hand seems to be extremely strong.

Although his robotic side is strong, his body cannot keep up with most activities and he easily gets exhausted.
Gallery
[
]